Congratulations – December's winner is:
Glendronach – 15 Year Old (Revival)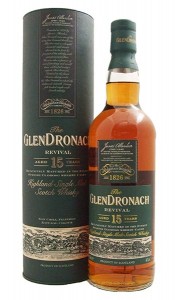 "Considered as one of the best value for money around".
As it's December, I was wondering if any of you readers would like to offer me one of these bottles as a Christmas gift 🙂
Seriously though, go out and get yourself a bottle of this. For the price (just under 50 GBP), you can not go wrong. Reviews of this hit the roof all over the place and its popularity keeps growing.
Amber in colour, this dram with sherry tones is an extremely complex mix of tastes such as walnut, beef, hints of Madeira, soy sauce, maraschino, and more (I told you it was a fantastic but complex set of flavours).
The finish is quite long, with the spices getting bigger until it eventually fades into a jam flavour of fruity blackcurrant. WOW!
You've tried the rest, no try the best!